Live Webinar: Retrofitting challenges - Technical and contractual perspectives
---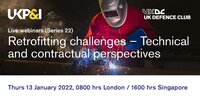 Ship retrofitting projects often introduce a number of technical and contractual challenges. There are usually multiple stakeholders involved, and the complexities can be enormous. A vessel's future performance and safe operations depend on important decisions being made throughout the retrofitting process.
Our recent claims experience concerning the retrofitting of ballast water management systems and scrubbers has taught us how complex these projects can be, and with decarbonisation ever closer on the horizon, the industry will see the introduction of new build ships and retrofits incorporating new fuel types and energy abatement technologies.
Join us while we discuss the challenges, lessons learnt and good practices focussing on the following key areas:
Design risk
Shipyard selection, workmanship standards and sub-contracting
Modifications during the project
Sea trials, equipment trials
Warranty periods and defects following expiration of the warranty
Role of classification societies and certification
Delays, price escalation, payments, defaults and refund guarantees
Follow this link for more information or to register.