April 2021 - Sanctions Update: Belarus
---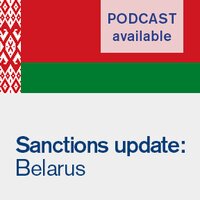 Click here to listen to the podcast
OFAC has announced that sanctions on certain Belarusian entities are to be imposed following a 45 day wind-down period
On 19th April, 2021, it was announced that OFAC is revoking Belarus General License 2G and replacing it with Belarus General License 2H. This new licence authorises a 45-day wind-down period for certain transactions involving nine sanctioned Belarusian state-owned entities, and entities in which they own a 50 percent or greater interest, which were previously authorised pursuant to Belarus General License 2G.
Sanctions on Belarus were first imposed in 2006 pursuant to Executive Order 13405, "Blocking Property of Certain Persons Undermining Democratic Processes or Institutions in Belarus." In 2015, OFAC issued General License No. 2, broadly authorising transactions with nine state-owned companies and their subsidiaries, without lifting the sanctions that were in place. Between October, 2015 and April, 2021, OFAC continuously renewed the general license, permitting US and non-US persons to do business with these companies and their subsidiaries.
This position has now changed with the new General License imposing a 45-day wind-down period, during which all business and activities with the nine companies and their subsidiaries must be wound-down. Any transactions with the previously licenced entities, that are not ordinarily incident and necessary to wind-down existing business are now prohibited and, with respect to non-US persons, sanctionable.
Following the expiration of the wind-down period on 3rd June, 2021, US persons will be prohibited from engaging in any transactions with these companies or their subsidiaries. Non-US persons determined to have "materially assisted, supported, or provided financial, material, or technological support for, or goods or services in support of" any of the companies or their subsidiaries will risk sanctions.
Accordingly, Members with Belarus-related business, especially involving the oil industry, should carefully perform due diligence to evaluate their transactions and supply chains in order to determine not only whether they are dealing with any of the specifically named companies, but also whether any of their subsidiaries are involved.
The European Union and the United Kingdom have also imposed restrictive measures since 2020, including asset freezes against targeted individuals and companies and restrictions on arms and equipment that may be used for internal repression.
Guidance has been issued by OFAC and Members are advised to seek legal advice for further guidance on these new sanctions.
https://home.treasury.gov/policy-issues/financial-sanctions/sanctions-programs-and-country-information/belarus-sanctions "