April 2021 - US sanctions against Russian "harmful activities"
---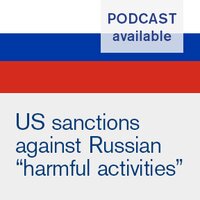 Click here to listen to the podcast
On 15th April, 2021, the US took multiple sanctions actions targeting "aggressive and harmful activities by the Government of the Russian Federation" under a new Executive Order ("EO").
In particular, the new EO addresses efforts (i) to undermine the conduct of free and fair democratic elections and democratic institutions in the US and its allies and partners; (ii) to engage in and facilitate malicious cyber-enabled activities against the US and its allies and partners; (iii) to foster and use transnational corruption to influence foreign governments; (iv) to pursue extraterritorial activities targeting dissidents or journalists; (v) to undermine security in countries and regions important to US national security; and (vi) to violate well-established principles of international law, including respect for the territorial integrity of States.
President Biden declared a national emergency to deal with the threat while the Secretary of the Treasury, Janet L. Yellen, stated that the Treasury is leveraging this new authority to impose costs on the Russian government, including by limiting Russia's ability to finance its activities and by targeting Russia's cyber capabilities.
OFAC took action against entities and individuals adding names to its list of Specially Designated Nationals. Several of these individuals and entities have recently been sanctioned by the European Union, United Kingdom, Canada, and Australia.
As a result of these actions, all property and interests in property of the designated persons that are in the US or in the possession or control of US persons are blocked and must be reported to OFAC. In addition, persons whose property and interests in property are blocked pursuant to the EO or OFAC regulations are "blocked persons". Any entities that are owned, directly or indirectly, 50 percent or more by one or more blocked persons are also blocked. Unless authorised by a general or specific license issued by OFAC, or exempt, OFAC's regulations generally prohibit all transactions by US persons or persons within (or transiting) the US that involve any property or interests in property of designated or otherwise blocked persons. The prohibitions include the making of any contribution or provision of funds, goods, or services by, to, or for the benefit of any blocked person or the receipt of any contribution or provision of funds, goods, or services from any such person.
Guidance has been issued by OFAC in the form of new FAQs and Members are advised to seek legal advice for further guidance on these new sanctions.
Links to relevant FAQs 886, 887, 888, 889, 890, 891, and updated FAQs 673, 674, 675, 676.
Link to the Executive Order Blocking Property With Respect To Specified Harmful Foreign Activities Of The Government Of The Russian Federation