February, 2022 - Liens on cargo in China
---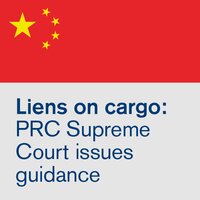 The PRC Supreme Court recently issued important guidance in respect of the rights of the carrier when enforcing liens on cargo. This is pursuant to the Memorandum on Trials for Foreign-related Commercial and Maritime Cases (the "Memo").
Under the China Maritime Code (the "CMC"), the carrier may have a right to lien cargo if the freight, demurrage etc. has not been paid and security has not been given (see Article 87). The CMC does not, however, specify whether, in order for the carrier to exercise the lien, the cargo has to belong to the debtor. For example, the seller under a CIF sales contract will undertake to ship the cargo and could owe freight to the carrier but it may not hold the title of the cargo at the discharge port. In judicial practice, it is well recognized by the courts that the goods that the carrier seeks to enforce a lien upon must be "the goods of the debtor".
The Memo re-addresses this issue. Article 60 sets out a freight prepaid circumstance in which the shipper shall be the debtor for any unpaid freight. It prohibits the carrier from exercising a lien on the cargo pursuant to the CMC unless the holder of the bill of lading is also the shipper. In our view, this strengthens the position that the carrier's right to enforce liens on cargo under the CMC is restricted to "the goods of the debtor".
Members should proceed with caution when enforcing a lien on cargo in China and it is recommended they contact the Club should there be a specific query. The full text of the Memo (in Chinese) can be found here.
As always, if Members have any questions in relation to the above issues they are invited to contact the Club for further information.
---
About the author:
---
Like what you read? Share this story:
---