January, 2021 - Litigating in China: a change to civil evidence rules
---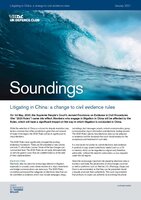 On 1st May, 2020, the Supreme People's Court's revised Provisions on Evidence in Civil Procedures (the "2020 Rules") came into effect. Members who engage in litigation in China will be affected by the Rules, which will have a significant impact on the way in which litigation is conducted in China.
While the selection of China as a forum for dispute resolution may be less common than other jurisdictions, given the vast amount of trade in the region, the 2020 Rules will be of significance to many Members.
The 2020 Rules have significantly changed the existing evidentiary framework. There are 89 amended or new articles and only 11 old articles survive. Some of the key changes are summarised here. The 2020 Rules do not apply retrospectively so will only govern cases that are undetermined as at the date of their implementation.