January, 2021 - Palmali v Litasco: quantification of damages under contracts of affreightment
---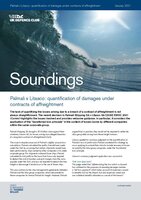 The task of quantifying the losses arising due to a breach of a contract of affreightment is not always straightforward. The recent decision in Palmali Shipping SA v Litasco SA [2020] EWHC 2581 (Comm) highlights the issues involved and provides welcome guidance. In particular, it considers the application of the "transferred loss principle" in the context of losses borne by different companies within the same corporate group.
Background
Palmali Shipping SA brought a $1.9 billion claim against their charterer, Litasco SA, for losses arising from alleged breaches of a long-term contract of affreightment (CoA).
The issue in dispute arose out of Palmali's slightly unusual loss calculations. Palmali calculated the profits it would have made under the CoA by assuming that certain shipments would have been performed by ships owned by other companies in its wider corporate group. For shipments onboard those ships, Palmali calculated its lost profit on the basis that it was only required to deduct the cost of bunkers and port charges from the sums payable under the CoA, and was not required to deduct the hire, freight or demurrage it would incur in the use of these ships.
This was contrary to the ship management agreements between Palmali and the intra-group companies, which did provide for these companies to invoice Palmali for freight. However, Palmali argued that, in practice, they would not be required to settle the intra-group debt arising from these freight invoices.
Litasco applied for summary judgment on the quantification of Palmali's loss of profit claim. Palmali countered this strategy by cross-applying to amend their claim to include recovery of losses incurred by the intra-group companies under the 'transferred loss' principle.
Litasco's summary judgment application was successful.