January, 2022 - Indonesia prohibits coal export
---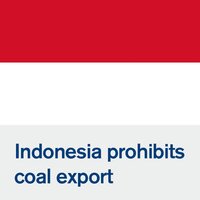 On 31st December, 2021 the Indonesian government issued a circular placing an export ban on coal with immediate effect. The circular halts all export of coal from all over Indonesia during the month of January, 2022.
All mining companies in Indonesia are subject to a Domestic Market Obligation ("DMO") which requires them to provide 25% of their total production to the national electricity company, PLN.
At a meeting held today, 5th January, 2021, between the miner stakeholders and the government, the Ministry of Energy and Mineral stated that there are 122 companies all over Indonesia which had fulfilled their DMO. However, there are a further 418 companies which have not fulfilled their DMO. Accordingly, the ban has been imposed to secure domestic coal supply to the PLN which would otherwise have to shut down some of its power plants, which it is not prepared to do in order to avoid an adverse economic impact.
The companies which have fulfilled their DMO may be permitted to continue to export but the situation remains uncertain. As yet, the list of the 122 compliant companies has not been published.
The ban is expected to affect all ships currently in Indonesia to load coal. Shippers are likely to declare Force Majeure and delays can be anticipated.
UPDATE: 17th January, 2022
Recent reports indicate that Indonesia has started to relax the ban on shipments, with 37 ships loaded with coal having been permitted to leave on January 13th, 2022.
Indications are that companies that have fulfilled their DMO have been permitted to resume exports although the situation remains fluid while the local government continues to monitor DMO compliance.
UPDATE: 24th January, 2022
In a further easing of the export ban, on 20th January, 2022 the Indonesian government published a list of 139 companies that had fulfilled their DMO for 2021 by 100% or more and were permitted to resume exportation. Reports suggest that 75 ships were allowed to load coal from these companies.
As always, if Members have any questions in relation to the above issues they are invited to contact the Club for further information.