June, 2021 - Sanctions update: Belarus
---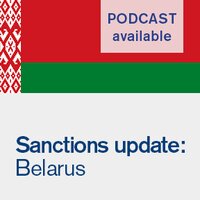 Click here to listen to the podcast.
The EU has introduced new restrictive measures against Belarus in response to the repression of demonstrators disputing the re-election of Lukashenko and the forced diversion and landing in Minsk of a Ryanair flight carrying the journalist, Roman Protasevich, in May, 2021. In response the EU has now imposed significant restrictive measures relating to:
Equipment, technology or software intended for use in the monitoring or interception of internet traffic and telephone communications and dual-use goods and technologies for military use.
Petroleum products, potassium chloride and goods used for the production or manufacturing of tobacco products, though contracts for the trade of such products entered into before 25th June, 2021 are exempt.
Access to EU capital markets through restrictions relating to certain transferable securities, money-market instruments, new loans and credit with a maturity exceeding 90 days issued after 29th June, 2021 by the Belarusian government, public bodies and listed state-owned banks.
Furthermore, the provision of insurance and re-insurance to the Belarusian government and Belarusian public bodies and agencies is prohibited and the European Investment Bank will stop any disbursement or payment under any existing agreements in relation to projects in the public sector and any existing Technical Assistance Service Contracts.
Over recent months the US, UK, EU and Canada have also imposed travel bans and asset freezes against senior-ranking officials of the Belarusian regime and key state-supporting entities. This follows the termination of a number of US general licenses that previously permitted transactions with some sanctioned Belarusian oil companies.
The UK government issued a press release on 21st June, 2021, accompanying the latest round of travel bans and asset freezes, suggesting that the UK is likely to follow the EU's lead in imposing measures targeting specific sectors of the Belarusian economy.
Individuals and entities involved in Belarus-related business should examine their transactions and supply chains to ensure compliance.