March, 2020 - Sanctions & Brexit
---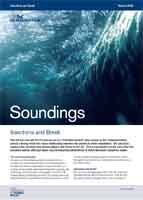 The UK has now left the EU and we are in a "transition period" (also known as the "implementation period") during which the future relationship between the parties is under negotiation. UK sanctions regimes are currently very closely aligned with those of the EU. This is expected to be the case after the transition period, although there may be important distinctions of which Members should be aware.
UK sanctions generally UK policy on international sanctions is directed by the Foreign and Commonwealth Office. The Department for International Trade is responsible for trade restrictions, i.e.controls on the import, export and movements of goods and technology and the provision and supply of services. HM Treasury (more specifically the Office of Financial Sanctions Implementation) is responsible for financial sanctions, which
includes listing designated persons and entities, whilst immigration restrictions are implemented and enforced by the Home Office.