May, 2020 - Supporting Documents and Time Bars: "The Amalie Essberger"
---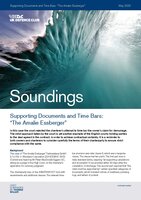 In this case the court rejected the charterer's attempt to time bar the owner's claim for demurrage. The strict approach taken by the court is yet another example of the English courts holding parties to the deal agreed in the contract, in order to achieve contractual certainty. It is a reminder to both owners and charterers to consider carefully the terms of their charterparty to ensure strict compliance with the same.
Background
The case of "The Amalie Essberger" Tankreederei GmbH & Co KG -v- Marubeni Corporation [2019] EWHC 3402 (Comm) was heard by Mr Peter MacDonald Eggers QC, sitting as a judge of the High Court, on the charterer's application for summary judgment.
The charterparty was on the ASBATANKVOY form with amendments and additional clauses. The relevant timebar provision was rider clause 5, which was a bespoke clause. The clause had two parts. The first part was in fairly standard terms, requiring "all supporting calculations and documents" to be provided within 90 days after the completion of discharge. The second part required that "the claim must be supported by" certain specified categories of documents, which included notices of readiness, pumping logs, and letters of protest.