August, 2022 - First ships depart Ukraine ports
---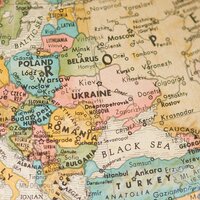 The outbreak of war in Ukraine on 24th February, 2022, and the subsequent closure of Ukraine's Black Sea ports, caused great disruption to Ukrainian grain trade. Not only were ships unable to call at Ukraine's ports, but ships that were at those ports when the conflict began were trapped. Given the risk of harm to the crews onboard those ships, many non-Ukrainian crews were evacuated to other countries by road (Ukrainian men of military age being prohibited from leaving the country). This left the relevant ships as unmanned "dead ships", watched over at Ukrainian ports by local security agents but unable to move.
The disruption to the Ukrainian grain trade caused a growing crisis in global food supplies. Consequently, on 22nd July, 2022 Russia and Ukraine agreed that ships exporting grain and other foodstuffs would be allowed to call at and depart from the Ukrainian ports of Odessa, Chornomorsk and Yuzhny via safe sea "corridors", with the UN monitoring incoming and outgoing ships to ensure that only grain/foodstuffs are moved. The first ship carrying grain under the agreement, the "Razoni", successfully sailed from Odessa on 1st August, 2022.
While the agreement was of course a welcome development, numerous issues still remain. For example:
Either Russia or Ukraine might withdraw from the agreement, closing the corridors and potentially frustrating charterparties agreed for lifting grain through the corridors. It is recommended that where possible parties include bespoke clauses in their charterparties, to clearly allocate risk in the event of the corridors closing.

The "dead ships" in Ukraine, which may be blocking loading berths, will need to be re-crewed before they can move. Until they can be re-crewed, there is the potential risk of charges or other claims/actions by the port authorities, given Ukraine's need to export as much grain as possible as quickly as possible.

Third, ships may have been loaded or partially loaded at the time the conflict began. That loaded cargo is likely to have spoiled to some extent in the intervening months. Will it be possible to remove the spoiled parts of the cargo, and replace with unspoiled? Bills of lading will need to faithfully record what has happened to the cargo, and there is still a risk of cargo claims in any event.

There are ships still trapped in Ukraine which might require hold cleaning before they can load a grain cargo and depart. Will the ships be able to carry out this cleaning, particularly if local regulations prohibit cleaning within the port and require cleaning at anchorage (which is not currently possible due to the risk of mines etc)?
Further consideration may need to be given to these issues depending upon how things develop in the coming weeks.
As always, if Members have any questions in relation to the above issues they are invited to contact the Club for further information.
---
About the author:
---
Like what you read? Share this story:
---