0% General Increase and Introduction of Continuity Credits
---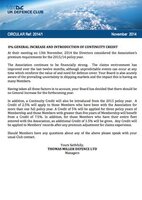 At their meeting on 13th November, 2014 the Directors considered the Association's premium requirements for the 2015/16 policy year.
The Association continues to be financially strong. The claims environment has improved over the last twelve months, although unpredictable events can occur at any time which reinforce the value of and need for defence cover. Your Board is also acutely aware of the prevailing uncertainty in shipping markets and the impact this is having on many Members.
Having taken all these factors in to account, your Board has decided that there should be no General Increase for the forthcoming year.
In addition, a Continuity Credit will also be introduced from the 2015 policy year. A Credit of 2.5% will apply to those Members who have been with the Association for more than one full policy year. A Credit of 5% will be applied for three policy years of Membership and those Members with greater than five years of Membership will benefit from a Credit of 7.5%. In addition, for those Members who have their entire fleet entered with the Association, an additional Credit of 1.5% will be given. Any Credit will be applied to Members' records after any premium adjustment for claims experience.
Should Members have any questions about any of the above please speak with your usual Club contact.