March, 2020 - Sulphur Cap - Scrubbers Update
---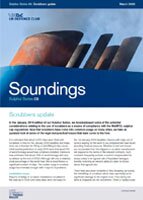 In the last edition of our Sulphur Series we foreshadowed some of the potential considerations relating to the use of scrubbers as a means of compliance with the MARPOL sulphur
cap regulations. Now that scrubbers have come into common usage on many ships, we take an updated look at some of the legal and practical issues that have come to the fore.
It is estimated that about 4,000 ships were fitted with scrubbers in time for the January 2020 deadline and many more are scheduled for fitting or retrofitting in due course. Initial market predictions in early 2019 were that about 5% of world tonnage would have scrubbers installed. Clarksons now estimates that about 19% of world tonnage will carry scrubbers by the end of 2020. Although still only a relatively small percentage of the world fleet, this is nevertheless a significant number of ships. The sudden surge in scrubber usage has inevitably brought with it reports of problems.