April, 2022 - Bunker quality issues - Singapore
---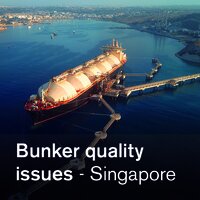 The Club is receiving an increasing number of claims relating to recent bunker deliveries in Singapore where the quality of some bunker fuel has been questioned. Although initial testing may indicate the bunkers supplied meet the ISO 8217 Table 2 specifications, it is reported that in practice these fuels tend to display severe operating problems such as excessive sludge formation in the purification/filtering process, wax formation at usual storage temperatures, wear and seizure of fuel pumps, corrosion and engine blackouts. Extensive testing by Gas Chromatography-Mass Spectrometry (GC-MS) may reveal the presence of unusual contaminants due to the heavy blending and the use of inappropriate blend components. The presence of such compounds potentially suggests that various chemical waste streams have been incorporated in the blending process. The current issues and the risks posed reawaken the challenges that ship owners and charterers encountered in the wave of "Houston bunkers" cases in early 2018.
We would refer Members to the Club's publication Bunkers: A Guide to Quality and Quantity Claims which provides useful guidance regarding purchasing considerations, delivery and sampling procedures, preservation of evidence, charterparty and supply contract considerations and the legal issues that may arise.
As always, Members are invited to contact their usual Club contact for further advice in relation to the issues discussed above.