March, 2021 - Sanctions Update: Burmese military coup
---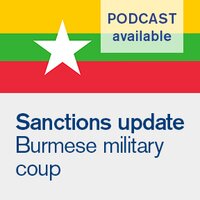 Click here to listen to the podcast
In response to the recent military coup in Burma, the US has imposed sanctions and property blocking orders against certain parties involved in "the assault on Burma's transition to democracy".
A number of individuals and entities have been added to OFAC's SDN List, including certain companies which have been identified as potentially being controlled by the Burmese military. Both US and non-US persons will be exposed to a risk of sanctions if they provide goods or services to such sanctioned entities.
The UK's approach has been to sanction a small number of individuals involved in the coup, but it remains to be seen whether any measures will be imposed against corporate entities. Meanwhile, the EU is yet to formalise its own approach and we will report on developments in due course.
Members are advised to seek legal advice in relation to any activities involving Burmese entities or individuals.