Rules of the Association 2012/13
---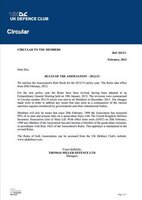 RULES OF THE ASSOCIATION – 2012/13
We enclose the Association's Rule Book for the 2012/13 policy year. The Rules take effect from 20th February, 2012.
For the new policy year the Rules have been revised, having been adopted at an Extraordinary General Meeting held on 19th January, 2012. The revisions were summarised in Circular number 2011/6 which was sent to all Members in December, 2011. The changes made were in order to address any issues that may arise as a consequence of the various sanctions regimes introduced by governmental and other international bodies.
Members will also be aware that since 20th February, 1999 the Association has reinsured 90% of its past and present risks on a quota-share basis with The United Kingdom Defence Insurance Association (Isle of Man) Ltd. With effect from noon (GMT) on 20th February, 1999 any Member of the Association has also become a Member of the quota-share reinsurer, in accordance with Rule 10(3) of the Association's Rules. This approach is maintained in the revised Rules.
The Rules of both Associations can be accessed from the UK Defence Club's website: www.ukdefence.com.