Sanctions Risks - Shipping Petroleum from Iran
---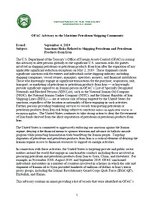 On 4th September, 2019, OFAC issued an "Advisory to the Maritime Petroleum Shipping Community" ("Advisory") regarding the risks related to shipping petroleum and petroleum products from Iran. The advisory warns of "significant sanctions risks" for entities and individuals in the shipping industry involved in shipping petroleum or petroleum products from Iran, specifically (though not limited to) trades involving the National Iranian Oil Company (NIOC), the National Iranian Tanker Company (NITC), and the Islamic Republic of Iran Shipping Lines (IRISL) and the provision of bunkering services to ships transporting petroleum or petroleum products from Iran. These comments were specifically aimed at entities and individuals regardless of their location and nationality.
On the same date, OFAC also added 12 ships to the SDN list, which it considers to be ships in which persons blocked pursuant to Executive Order 13224 have an interest.
The Advisory also warns of risks to any marine insurers who underwrite certain Iranian interests or related trades. Members are reminded that an additional risk of breaching sanctions is that their insurance cover may be prejudiced.
The Advisory sets out various best practice steps to reduce sanctions risks, including verifying cargo origin, strengthening anti-money laundering checks, monitoring for AIS manipulation and generally heightening due diligence procedures.
On 5th September, 2019, OFAC updated its FAQs for bunkering operations. The updated FAQs (296,691 and 692), which cover questions such as whether the provision of bunkering services to Iranian ships or non-Iranian ships carrying goods to or from Iran will be subject to sanctions, provide a clear warning of the risks involved for those operating in the bunkering sector as well as other trades.
The above steps indicate that the US is continuing to strengthen restrictions on Iran and is taking an increasingly aggressive approach to the enforcement of sanctions. Members are advised to be extra vigilant in relation to sanctions checks and procedures.